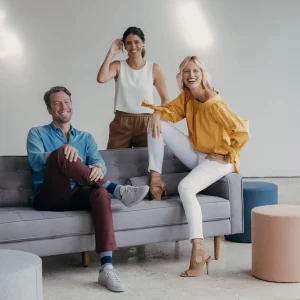 Premium wellness brand Gryph & IvyRose recently entered the mass market space with expansion into Walmart with the help of accelerate360. accelerate360 also provides 3PL services for Gryph & IvyRose, including pick, pack, shipping, inventory management, custom kitting, and sourcing.
Brand leadership guests:
Rachel Finger, Co-Founder
Karolina Kurkova, Co-Founder
Orion Nevel, Co-Founder and herbalist
Why did you create Gryph & IvyRose?
RACHEL: We co-founded Gryph & IvyRose after being connected through Orion, our shared herbalist and acupuncturist, shortly after Karolina and I both became mothers four years ago. The three of us decided there was a need to offer a diverse product line that would enhance families' lives with herbal wellness in a sustainable and accessible way. This mission had a particular significance for me as I experienced the power of herbs in the early weeks after delivering my twins. Orion introduced our family to traditional remedies and herbal blends that promoted their overall wellness. Realizing the benefits firsthand, we knew there was potential to help more families in a much larger way.
ORION: Having two parents as natural health leaders, one being an acupuncturist and the other a nutritionist and massage therapist, my childhood was filled with herbal and natural medicine. I've always enjoyed and embraced the natural health movement and eventually chose it as my career. After studying natural healing and owning and operating an herbal apothecary for over twenty years, Rachel and Karolina fueled an interest I had in developing and manufacturing functional formulas based on traditional Chinese medicine and other herbal traditions from across the world. Our combined experience and interests provided a great foundation to build something unique and it's what really keeps us going today.
KAROLINA:  Our partnership was truly a natural fit! Staying healthy was always a priority for me when I was in the modeling business but becoming a mother meant I had to make choices that were not only good for me, but my little ones! After meeting Orion and Rachel and discussing the broader need, I was motivated to make natural solutions more accessible for the everyday mother.
What has growth been like? What's new with distribution?
RACHEL: Our goal has always been creating pure, functional products for children, as well as creating resources and giving back to families. To start, we targeted the premium market with our 360-approach to ongoing wellness including bath & body, probiotics & herbal supplements. After very hard work, we secured placement in notable retailers like Saks Fith Avenue, The tot, Maisonette, and Anthropologie. Targeting this core demographic helped us get recognized on Kourtney Kardashian's wellness website Poosh. After establishing the apothecary and boutique business, we launched two bath & body products in 28 Florida Whole Foods stores. We were included in Hillary Duff's personally curated Holiday Box and were placed in the highly coveted Goop Holiday Gift Guide by Gwyneth Paltrow.
As our awareness grew, so did the loyalty among our DTC brand enthusiasts who buy our products directly on gryphandivyrose.com and our Instagram shop, which is supported by accelerate360's eCommerce and 3PL services. Accelerate360 has helped us expand our online reach by adding sales on boxed.com where customers can buy our premium products in bulk.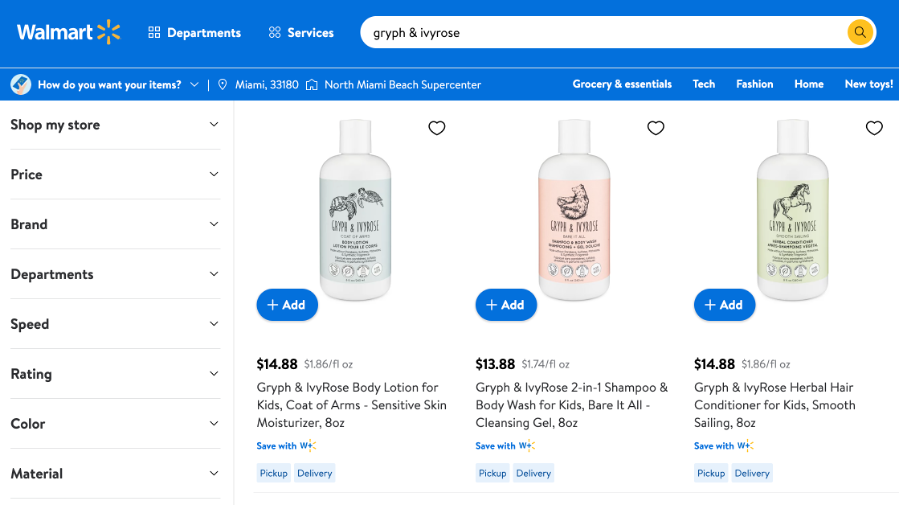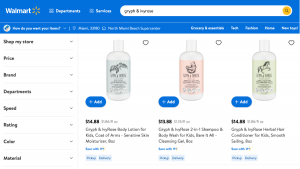 KAROLINA: Today, more than ever, we're focused on making clean, sustainable, and high-performing wellness routines available for the mass consumer. We're excited to announce we launched our Bare It All – Shampoo + Body Wash, Smooth Sailing – Herbal Conditioner, and Coat Of Arms – Body Lotion at select Walmart stores, Walmart.com, and select CVS stores last month! This distribution expansion, which was secured by accelerate360, has dramatically increased our national footprint.
ORION: Gryph & IvyRose products could be merchandised in-store in Walmart's baby section, but because of our strict quality standards, accelerate360 helped us get placed in Walmart's Naturals section. We're thrilled with this placement because customers that seek better-for-you attributes frequently shop it. This consumer is generally educated on the benefits of clean personal care products. And, we are not changing the formula between retail channels. With Gryph & IvyRose, you get the same quality product regardless of where you shop.
What's the secret to maintaining your brand values and quality standards while you scale?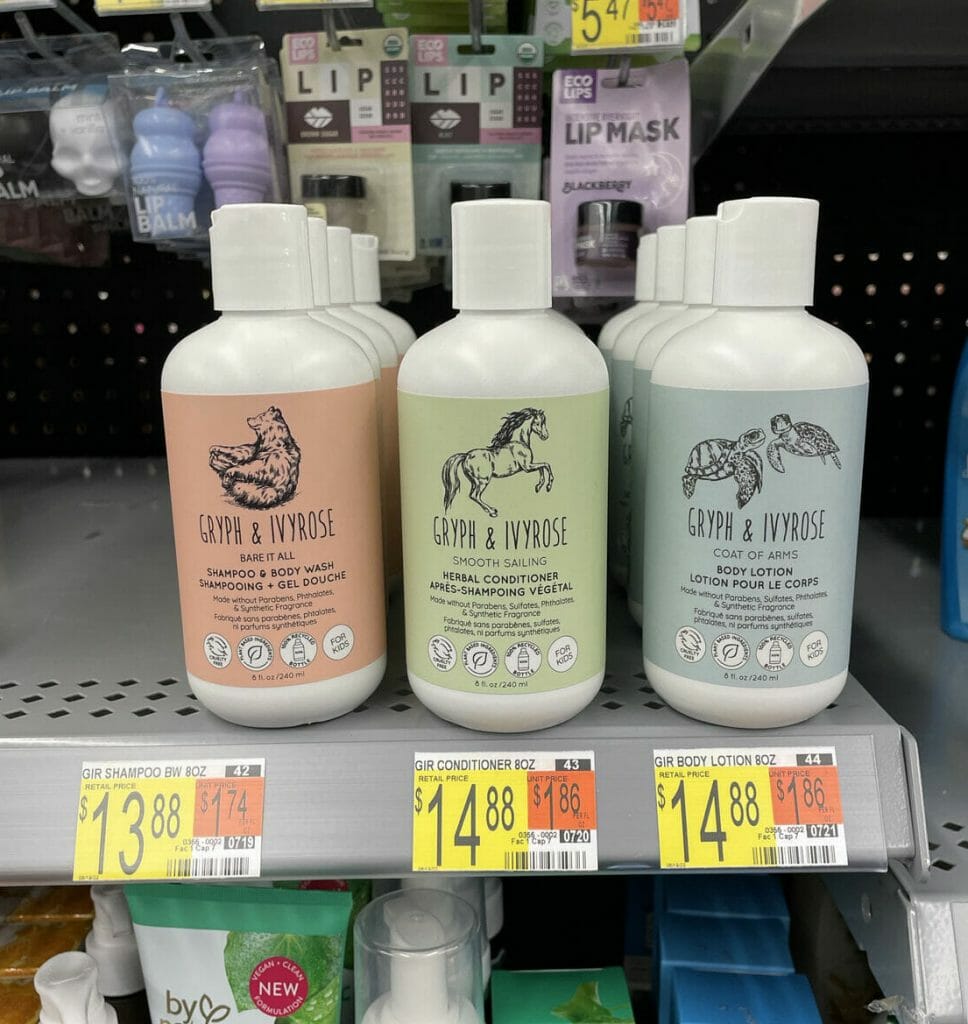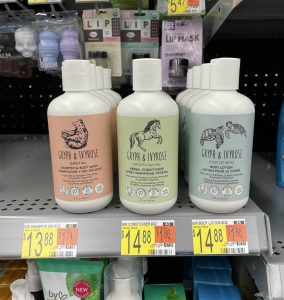 RACHEL: The three of us are a strong team, but we knew from the start we wanted to create a meaningful brand, we couldn't do it alone. New businesses often fail because distribution, warehousing, and marketing quickly become a priority after the early product development stages. It's at this stage we looked for and identified accelerate360 as a great growth partner. Their logistics division helped us expand our retail footprint and fulfill a bigger market size. Having a strong logistics partner keeps us nimble and allows us to engage in various promotional opportunities.
KAROLINA:  With a distribution plan in place, we also leaned on a360media, accelerate360's media arm, to raise awareness through placements in celebrity titles including Us Weekly, Star, In Touch, OK, and Life & Style. These placements helped keep us maintain ongoing buzz while we curated our brand audience on social.
ORION: For me, I believe our quality standards are the bedrock of our brand so it's where I want to spend the majority of my time. Having accelerate360 spearhead our logistics has allowed me to focus on formulations instead of other areas of the business such as warehouse staffing and management. Time and resources saved in these areas allow us to invest back further into R&D and ongoing product packaging updates. It is a huge relief knowing that experts are handling our logistics because servicing a customer like Walmart isn't really possible without proper support.